Episode 15: Kristin van Ogtrop
Thinking about making a big career change? Considering a huge shift, whether from home-to-work or work-to-home or something in between? This is the episode for you! And if you happen to be in mid-life, you're in for a great time. You can watch a video version of this episode over at our YouTube channel.
Kristin van Ogtrop is a literary agent at InkWell Management. In her previous life, she wrote a column called The Amateur for Time, was the editor in chief of Real Simple, and was named by Fortune as one of the "55 Most Influential Women on Twitter," a designation she now finds absurd. She was a contributor to the New York Times bestseller The Bitch in the House and the author of Just Let Me Lie Down: Necessary Terms for the Half-Insane Working Mom.
Her latest book, Did I Say That Out Loud? Midlife Indignities and How to Survive Them, is out now from Little, Brown Spark. If you get a Mother's Day gift from us this year, it will be this book.
On the list of things we cover this week, you can look forward to hearing about:
Thyroid disease
People who put empty containers back in the pantry (aka everyone we live with)
Adventures in dentistry
We also talk a lot about making a career change in mid-life. It's scary, exhilarating, and vulnerable to hit the restart button after 25 years in one career. Whether you are going back to work, or doing a 180 in your career, or leaving the workforce, there are truths for you in this episode.
Kristin's new book is excellent. It's smart and funny, and made us feel much less alone in our own mid-life indignities. One of our favorite parts of the book was these three questions (you'll have to listen to the episode and read the book for all the details):
Who Am I?
Where Am I Going?
Why Am I Going There?
A fantastic discussion ensued about using those three questions to identify your core values, and understand how you view the world. Knowing this about yourself can help you determine what is next.
Topics, People, Etc. That Come Up in This Episode
Things We Haven't Quite Finished
Our Look, Listen, Learns
Susanne:
CBD gummies in the retirement community (You just have to listen, but we will say this: Kristin, Missy, and Susanne are all going to bingo night next time.)
Kristin:
Missy:
Connect with Kristin: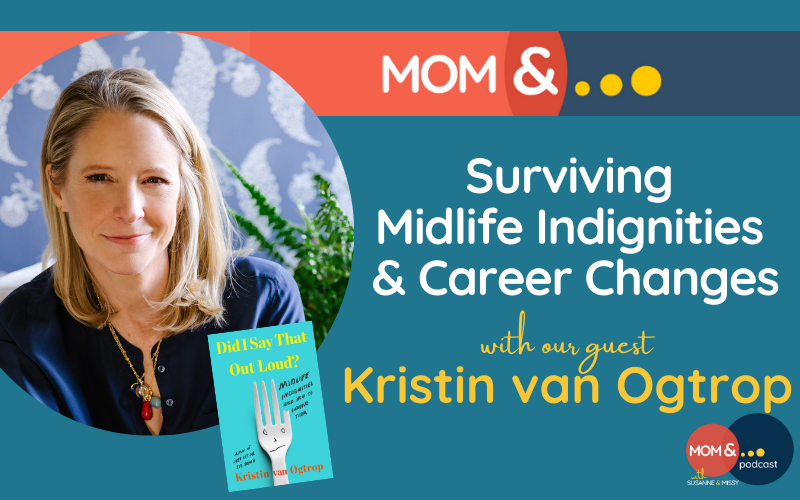 How to chat with us, or follow us, and support us!
We want to hear from you (and we are excited about talking to someone other than ourselves.)
Please subscribe to the podcast wherever you get your podcasts! If you're so inclined to give us a 5-star rating, we'll love you forever. And who couldn't use a little extra love?
Leave us a message – via voicemail or use our form – with your questions for experts, or suggestions for future episodes.
Check out our website, where you can find links to all the things!
Follow our Facebook Page
Join our private Facebook Group
Follow us on Instagram
Become a patron – check us out on Patreon!
Musical Notes
Our delightfully happy intro and outro theme music, "We Will Get Through This" is performed by Young Presidents, and used under license from Shutterstock.
Sign up for our newsletter